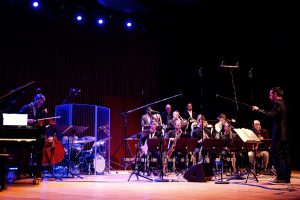 Stockholm Jazz Orchestra- Nature Spirits
In 2016, Peter Knudsen was commissioned to compose new music for Stockholm Jazz Orchestra, a renowned big band celebrating more than 30 years of touring and recording. The resulting composition "Nature spirits", is a 50 minute suite based on spirits and creatures found in Nordic mythology. Through four movements, each one representing a different entity, the listener is drawn into an alluring and suggestive world of sounds where haunting melodies are mixed with impressionistic sonorities and the individual solo flights of the band's outstanding improvisers. The finished album has its release in June 2019 through Do Music Records.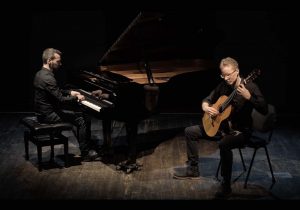 All in Twilight
All in Twilight is a brand new project featuring Peter Knudsen, jazz pianist, and the classical guitarist David Härenstam. Together the duo engage in explorations of music by Toru Takemitsu, Roland Dyens, Heitor Villa-Lobos, Astor Piazzolla, and other composers, both through improvisation and newly written arrangements. The result? A unique meeting between the worlds of jazz and 20th century art music, as well as between eastern and western culture. (Photo: Aron Fogelström)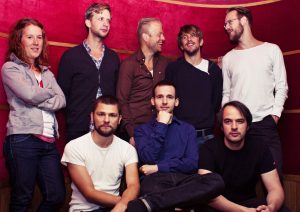 Peter Knudsen Eight
With compositions inspired by Nordic sagas, landscapes, 20th-­‐century music and life itself, the listener is taken on a musical journey filled with passionate melodies, lush orchestrations and moods ranging from melancholy to euphoria. The members, some of the most exciting profiles of Swedish jazz today, are featured both as eight original voices and as a strong unit. Not unlike a chameleon, the group can shift from performing melody-­‐driven Scandinavian jazz à la Lars Gullin's 60's octet to producing sounds more reminiscent of chamber music and composers like Debussy or Stravinsky, just to culminate the next second in a massive release of energy.
In 2012, the group released the album "Sagas of the Present" on the Italian label CAM Jazz, described by Down Beat as "a fine example of resourceful arrangement-oriented thinking and what can be done in the format of an octet".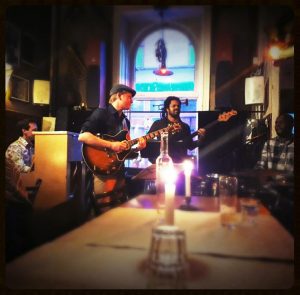 Derupeto Quartet
Do not miss this unique group of four great musicians from Sweden, Mozambique and Brazil that are sure to give the audience an unforgettable concert. With a repertoire of mainly original music, the group creates their own brand of jazz with strong influences from the three musical worlds of the members.
Tobias Grim- guitar
Peter Knudsen- piano
Rubem Farias- bass
Deodato Siquir- drums, vocals